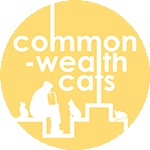 Many of the Commonwealth are cats are looked after by this feeder and his network of senior uncles and aunties.
They care for community cats include some very sick and very elderly one. One of them also does the PR work addressing complains and with authorities.
When you sponsor food, you bring joy to the senior care givers and the cats.
Our selection of food

When cats are given good quality food, it keeps them healthy and prevents certain diseases that require huge medical expenses or care that is very difficult for community cats.