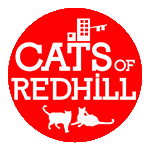 This is a network of feeders who care for cats in Redhill area.
They work together to ensure that cats are well fed and well cared for. Many of them are seniors with limited budget.
With your help, the cats can get good quaity food to prevent problems like UTI or kidney failure that require very costly medical attention.
This is a win win for both humans and animals.
To find out more about their good work, please visit their facebook Cats of Redhill
Logo Story
Redhill is an old residential estate with a laid back feel. It is not surprising to see community cats lounging around and chilling out.

Hence the HDB icon and lazing cats are included in the logo. The chosen font is erratically angular, reminding me of an HDB estate with corners and differing heights.

I hope this logo projects a feel of how easy and normal it is for community cats and residents to live together in harmony.
Order process

When we deliver, Cats of Redhill will post the delivery picture with names of sponsors.
To support Cats of Redhill,
You can order by filling the form below, whatsup 81272723 or e mail pets@ahasg.com
1) Please indicate the quantity of food you wish to contribute. NO GST.
2) Click order now and you can choose to pay by credit card, Paypal or bank transfer.