Support Feeders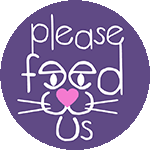 Community animals have a very tough life on the streets. Good quality food makes a great difference in their health.
You can help by sponsoring food for them.

The food is delivered to their respective feeders and we will acknowledge the sponsors when we post the delivery photo.
Even a one bag sponsorship can make a world of difference. Let them know they are special!

Here are the groups we work with: