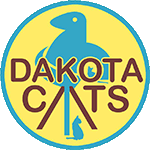 We are appealing for food to keep the Dakota cats healthy.

Some of them have developed kidney issues as a result of the food they were fed. Others are in bad health so we need to boost their health while working on having them adopted.

AHA have taken in 4 cats from Dakota. Most were already very sick and they have since passed away.

Misty was adopted by AHA because she had nose cancer. 5 months after she was adopted, her cancer spread and she passed away peacefully.

Sam Sam was partially deaf, FIV+, probably had a stroke and kidney issues. In Jun 17, his immune system was compromised as a result of FIV complications and he passed away very peacefully.
Princess was attacked by dogs and sent to SPCA. CWS informed Dakota team and AHA bailed princess out and sent her to the vet. Unfortunately, she passed away at the vet.
Henry was adopted after their owners said they didnt want to bring Henry along. He developed severe kidney failure and desite intensive treatment passed away on 11 July 2017.
Transparency & accountability

This is what happens when you sponsor food for Dakota cats.

1) AHA will consolidate and deliver to feeders in Dakota. You will receive a receipt when we process the order.
2) Upon delivery, we will send a photo of the items with names of the sponsors and the sponsored items.
This way, donors will get full updates of all items.

You can also support Dakota cats by ordering products (bodywash and candles) for yourself at Bleulight.